This website documents the travels and writings of Scott G. Kipp. I'm a travel writer and plan to write a book a year for the next decade.  
I released the first novel in the Beyond Series called Beyond Na Pali. The book is set on the beautiful Na Pali Coast of Kauai and has Skyler Briggs backpacking with the gorgeous Shirley of Australia. They have fun until their casual sex and drug use lead to problems in the wilderness.
The book is available at Amazon in paper or on Kindle here. I usually have a book on me and I'll sell it to you for $10 in person or mail it to you for $20.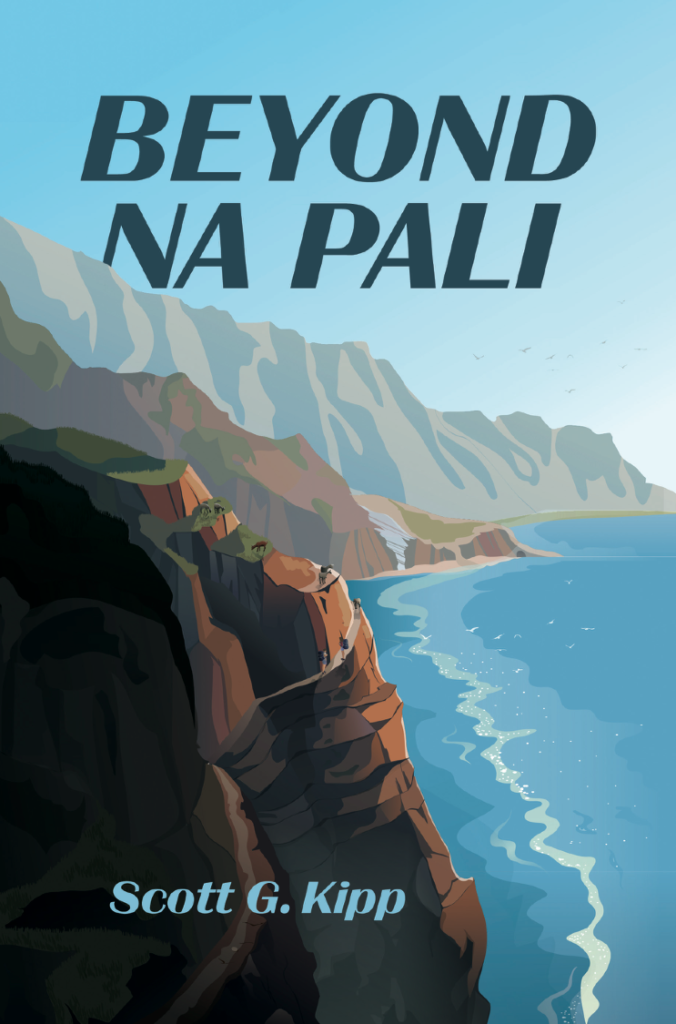 You can read more about the book on this page.
I plan to send emails out to my subscribers to keep you up to date on my travels and my writings. I won't send out more than one email a week, so I won't clog your inbox. Sign up below:
I move around a lot. Here's where I plan to be over the next few months:
2019
October 12th- ?? – Santa Barbara – Home Sweet Home after a year and a half on the road.
Christmas – Kansas City
2020
April – June – Portugal – I'll be hiking the Camino de Santiago to research one of the next books in the Beyond Series.
Fall 0f 2020 – Everest Base Camp for the setting of my next novel.
Finito
Here's a list of trips I already finished.
2018
May 25-July 10th – Roadtrip from LA to Kansas City with stops in Las Vegas, Zion, Bryce Canyon, Escalante National Monument, Monument Valley, Santa Fe, Taos, Denver, McCook, Manhattan, Kansas City, Wichita, and a few more places.
July 14th – My retirement party in Santa Barbara
July 15th -27th – Sierra Nevada
July 29th-August 26th – Esalen Retreat Center
September 11th-October 17th – Japan -Amy and I will be staying in Tokyo for the first 8 days and will go to a Yomiuri Giants game in the Tokyo Dome. Then we'll stay on Naoshima Island for 3 nights and plan from there!
October 26th-November 2nd – Lemon Rally from Chicago to LA – Chris and I will go the whole way while Rob and Ryan will take the first leg from KC to Chicago and Baxter Springs, KS. In Baxter, Mark, Eric and Bobby will take the second leg to Albuquerque. From Albuquerque to Vegas will be Dead Eye Dave and Stacy. On Halloween, Amy and Cheri will fly into Vegas and finish Route 66 to Santa Monica.
November 10-December 30th – road trip from California to Tucson, Carlsbad Caverns, Wimberley, TX, and Kansas City.
2019
December 30th-January 8th – Wimberley Texas for a new years eve blowout party
January 8-February 7th – Lima, Peru – We'll be staying in an Airbnb for 30 days.
February 7th-February 25th – Bogota, Columbia and the mountains nearby.
February 25th-April 10th – Cusco, Peru. We'll arrive in time for Carnival. We'll stay in the old Incan capital and make some side trips to get ready for the Inca Trail to Machu Picchu that goes over Dead Woman Pass at 13,828′. I'll probably do some backpacking and writing on my new novel.
April 19th-May 2nd – We'll go somewhere in Peru.
May 2nd – 6th – We'll be on the Incan Trail that ends in Machu Picchu. On the fifth day, I'll climb Huayna Picchu, the mountain behind Machu Picchu while Amy stays at the ruins.
May 10th – June 12th – We'll keep going south to Santiago for about a month before we fly home?
June 12th-June 23rd – Stay in Wimberley
June 24-30th – Crystal Bridges Museum in Arkansas
June 30th- July 20th – Go to KC for 4th of July
July 20th – July 29th – RV to Colorado with Eric and his family
July 29-August 31st – Salida, Colorado for a nice summer.
August 31-October 4 – Somewhere in the Front Range of CO.
September 30th – Boulder, Colorado for Austin's wedding.
October 1–12th – Make our way back to Santa Barbara. We'll stop for a week in Flagstaff.